Force Summer Clasico 2020 Tournament Rules
Team Registration and Check-in: All teams are required to check-in at the main tournament check-in one hour prior to the team's first scheduled game (Check-In will be at all field locations 1 hour prior to your first game). Failure to check-in will result in automatic disqualification (without a refund of the fee) from the tournament. Games not played will be classified as "Forfeits".
Current laminated USYSA player cards for 19/20 or 20/21 will be accepted for all players as proof of age and must be available for inspection at initial check-in and at the start of each game. USYSA Teams from outside Region Four must also provide approved Travel Papers, which must include a roster listing all players authorized to travel by the team's State Association.
All Travel Papers must be submitted to the Tournament Director prior to check-in. Any player not listed on the Travel Papers, including any amendments, properly executed by the team's State Association will not be allowed to play in the tournament. Proper Player Loan Forms will be required at Registration along with other required credentials, as required by the team's State Association. All teams must provide the USYSA Player I.D. Cards from the State Association listed on this application.
The Force Summer Clasico Tournament will also accept teams registering under the US Club Soccer banner. Player I.D. Cards from associations other than USYSA or US Club Soccer will not be accepted. All cards must be from the same association, there will be no mixing of cards. Medical release forms will be required for all players at the initial check-in. Teams will be required to keep medical releases on hand at all times.
Refunds: There will be no refunds given after the stated application deadline. Prior to the application deadline, refunds will be made less any administrative fees that have been incurred.
Rosters: Teams may register a maximum of eighteen (18) players (12 for U8-U9, 14 for U10-U11). A team may use unlimited guest players, but any team utilizing guest players is still limited to the eighteen player maximum (12 for U8-U9, 14 for U10-U11).

RULES OF PLAY
All games will be played under FIFA rules with USYSA and CalSouth adjustments for youth competition with the following additions and clarifications:
Game Format: Each team will play a minimum of 3 games. Preliminary Games can end in a tie. Finals games tied after regulation will go straight to FIFA Penalty Kicks. The winner of the kicks will determine who advances or is awarded the trophy. Penalty Kicks will immediately follow the game.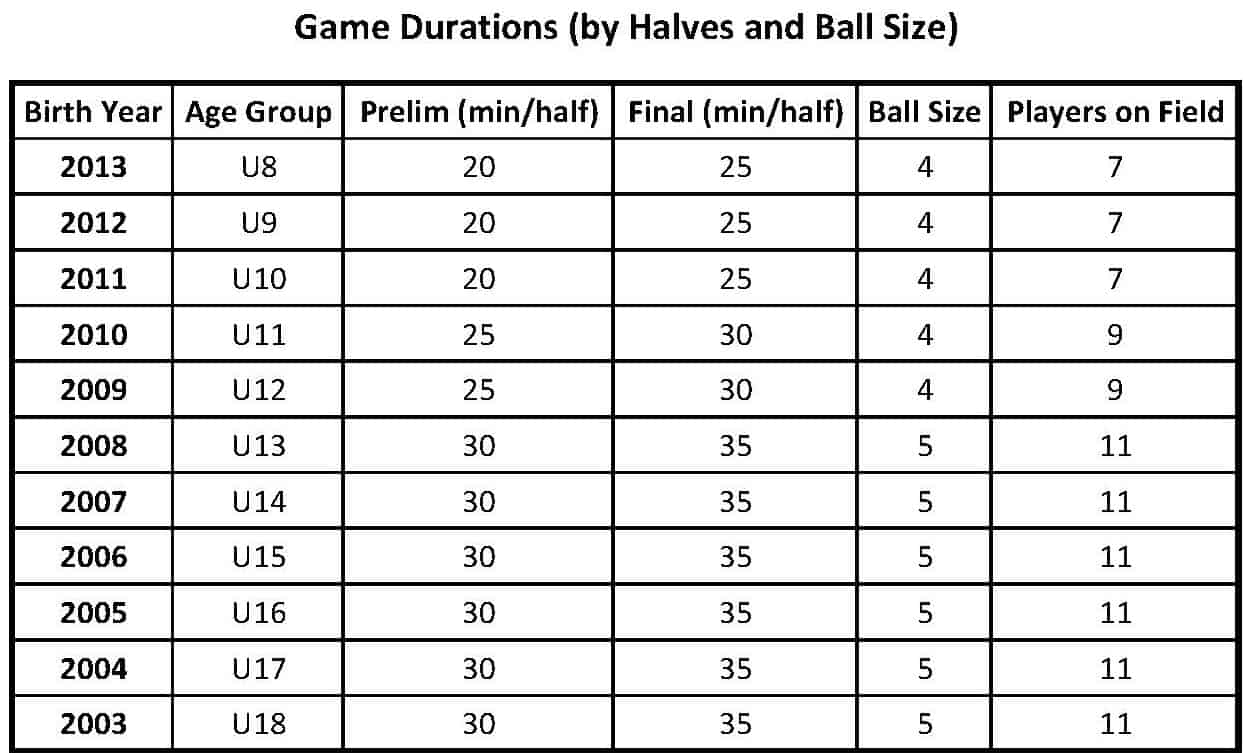 There will be no stoppage time for injuries; in other words, there is a running clock for all games. Halftime for games will be 5 minutes.
Determining Winners: Teams will be awarded points on the following basis:
- Six (6) points for each Win
- Three (3) points for each Tie
- Zero (0) points for each Loss
- One (1) point for each goal scored up to a maximum of three (3) per game
- One (1) point for each shutout
- Minus one (-1) for each player or coach ejected
- A 0-0 tie will be scored as 4 points for each team (3 for tie, 1 for shutout)
In the event of a tie in points at the end of bracket play, the teams to advance will be determined as follows:
- The winner in head to head competition
- Fewest Goals against
- Goals for (Max of 5 goals per game)
- Most Total Wins
- Most Shutouts
- If a tie still exists after steps 1 through 3, FIFA Penalty Kicks will be taken (time and location to be determined by the Tournament Director) prior to the scheduled start of the appropriate Quarterfinal or Semi-final game.
- If a three-way tie exists within a bracket after steps 1 through 3, a three-way coin flip will be conducted. The teams that tie in the coin flip will compete in FIFA Penalty Kicks to eliminate one team prior to proceeding to FIFA Penalty Kicks with the third team. The coin flip and time of the FIFA Penalty Kicks will be determined by the Tournament Director at the fields. If ties exist in the determination of a wild card team, criteria 2 through 5 will be applied.